Art Bus Excursions – Connecting Every Juneau Student to the Arts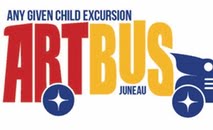 Art Bus Excursions are field trips to local arts experiences for our youth. Any Given Child Juneau currently provides annual Arts Bus Excursions for all 2nd, 4th, 5th, 6th and 8th graders, with more in development. Art Bus Excursions are just one of the ways that Any Given Child Juneau works to ensure that all Juneau students have access to the rich arts and cultural opportunities available in Juneau. Art Bus Excursion is part of Any Given Child, a K-12 community initiative to ensure all children receive arts through the schools.
These funds will be used to help cover transportation costs for students.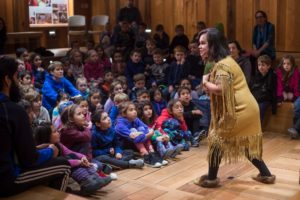 Any Given Child Storytelling Excursion. The most recent Art Bus Excursion was November 29-30, 2018. The Sealaska Heritage Institute staff and presenters welcomed every 2nd grade class in the Juneau School District to the Walter Soboleff Building and Shuká Hít, "Our Ancestors Home", traditional clan house.  Cultural Specialists with the JSD Indian Studies Program guided students from bus to building, singing Tsu Heídei Shugaxtutaan, and exploring the new bronze house posts in front of the building.  Katrina Hotch, Ishmael Hope and Lily Hope shared cultural stories, Tlingit language and customs, and amazing Indigenous art forms displayed on the house front by Tsimshian artists, David A. and David R. Boxley.  A special gift of reciprocity was given to each student as they left through the house front doors: an orange and a bookmark bearing the image of the glass warriors by Preston Singletary.  Support for this annual Excursion was provided by Sealaska Heritage Institute, Behrends Mechanical, Inc. and Juneau Arts & Humanities Council.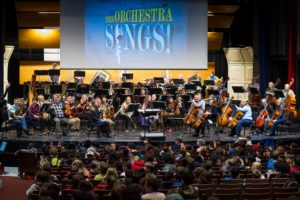 Any Given Child Symphony Excursion will be January 23rd, 10 am @ JDHS Auditorium — PLAYING WITH THE JUNEAU SYMPHONY ORCHESTRA. Each and every Juneau 4th and 5th grader will attend a concert with the Juneau Symphony Orchestra, featuring a jazz ensemble. This exciting, interactive arts experience invites students to be audience members and join the orchestra by singing or playing along with a variety of instruments. The Carnegie Hall Link Up Program, The Orchestra Swings!, provides sheet music, study guides and presentation materials to support the event. Through the repertoire, students investigate the concepts of rhythm, form, improvisation, and communication and how they contribute to the magical moment when the orchestra starts to "swing." Music teachers and students learn the songs at school during music classes beforehand, playing instruments available at their school. Violins, guitars, recorders, ukuleles and more! Sponsored by: Juneau Symphony Orchestra, First Student, Inc., Carnegie Hall Link-Up, Juneau Arts & Humanities Council, and Juneau School District and Any Given Child Juneau.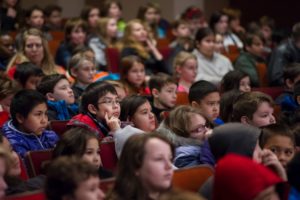 Any Given Child Theatre Excursions will be Feb. 7, 13, 14 — LIVE THEATRE WITH PERSEVERANCE THEATRE. Each and every Juneau 8th grader will attend Whale Song, a world premiere by Cathy Tagnak Rexford (Inupiaq) at Perseverance Theatre.  Students will experience an original theatrical event and explore themes during school visits from actors and directors. The story: A baby born in a small Arctic village has an unusual destiny: to save the earth's population of bowhead whales, she must train her whole life for the honor of someday marrying a whale, leaving humanity and spending her adult life with her new mate. Torn between teenage rebellion, young love, and her innate desire to fulfill her prophecy, she is witness to the near-end of a species and the heartbreak that often comes with doing the right thing. Sponsored by: Perseverance Theatre, Juneau Arts & Humanities Council, Juneau School District and Any Given Child Juneau

To Donate
Donate by credit card via the PayPal link below or make your checks payable to:
Juneau Community Foundation, 350 North Franklin Street, Suite 4, Juneau, AK 99801.
Remember to include your name and address so that you can receive your tax deduction letter.
If you use PayPal, then please add 2% to your donation to cover the PayPal transaction. To receive your tax deduction letter, please check the box with the option to 'Share my mailing address with Juneau Community Foundation'.