Emily Rose Waste Memorial Fund
Emily Rose Waste of Juneau died at home on May 21, 2014 of skin cancer. She was 22 years old. In late January, 2012, following emergency surgery, Emily was diagnosed with stage four metastatic melanoma. After 28 months of bravely fighting a relentless terminal disease that has no cure, Emily arrived at a time and place that she recognized and accepted. When Emily took her last breath, her tortured journey with cancer ended, as did her suffering… so strange, her death, the very thing we dreaded most, ended up being the kindest possible gesture at the end, angel of mercy. She was surrounded by family and close friends, her spirit embracing us all.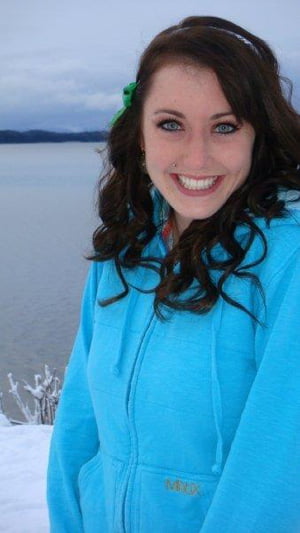 Not an easy path for a 22 year old person to find and follow. She endured numerous medical emergencies, surgeries, treatments, and way too many hours in distant hospitals, facing ever present fear with remarkable strength, grace and humor. So many times she floated back to the surface, smiled sweetly, and eagerly resumed a life still worth living. Her will to survive, despite the odds, gave her hope and time to reconcile a fate that she could not control. Thank you, Emily, for having the courage to fight for so long as you gave us hope and time to reconcile as well, a precious gift.
Emily is survived by all who cared for her, parents Cris and Jamie Waste, sister Jessica Waste, dog Lucy, the Jan Beauchamp/Mark Kelley family, the Laura Stats/Brien Daugherty family, Joanna Goldman, George Lujan, Kathy Callahan, Amy Skilbred and Eric Jorgensen, Marijo and Steve Brantner, many dear friends young and old, and too numerous to mention grandparents, aunts, uncles, and cousins throughout the lower 48.
Thank you to her employer, the Juneau Legislative Information Office for their tremendous compassion; the Bartlett Regional Hospital Emergency Department, Swedish Hospital, Northern California Melanoma Center, St. Mary's Hospital, Stanford University Medical Center, and Seattle Cancer Care Alliance for assistance in extending Emily's life, and to Juneau Hospice for support in our home during the final six weeks… and our gratitude to so many people throughout Juneau for such deep community support. Special thanks to Lindy Jones, Emily's primary physician.
The world of horses, reading, snowboarding, singing, out the road sunsets and camping on the beach with friends, sleeping with cool air on her face under a heavy pile of blankets are just some of the things that brought Emily joy and comfort. She loved to bake as well, from an early age right up until she could no longer stand in the kitchen, and no matter the age, she always managed to leave a happy mess behind, flour, sugar, seemingly everywhere. We called it Emily dust.
Our hearts ache. We are forever grateful for your beautiful life, Emily. We love you.
No services are planned at this time. In lieu of flowers, donations can be made in her name to the Juneau Community Foundation, 350 North Franklin Street, Juneau, AK, 99801 or online at www.juneaucf.org.
To learn more about the memorial bench in honor of Emily, please click here and read the letter from the Waste family to the Board of the Shrine of St. Therese.