John Caouette Memorial Fund
To find out about the Twin Lakes Warming Shelter click here
To learn more about the Cabin or make reservations to go CaouetteCabin.com
John Caouette, 46, of Juneau, died Oct. 12, 2010, in an accident while visiting extended family in Minnesota.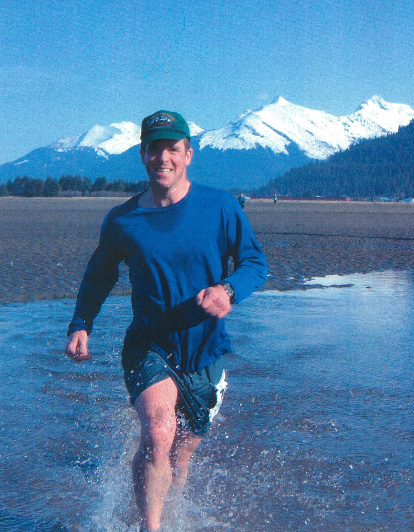 He was born Jan. 17, 1964 in Minneapolis and moved to Juneau in 1993 several years after biking through the town during one of his many long-distance bicycle trips. There he met his wife of 11 years, Rebecca Braun. He leaves two children, Rosie (8) and Alder (2).
John was a playful and intensely loving person who prized meaningful connection with others above all else. He would drop anything to provide support to a friend or neighbor, volunteer in his child's classroom, or finish an important conversation.
After earning bachelors and masters degrees in math, John worked for the U.S. Forest Service for many years and for the past few years as a statistician for The Nature Conservancy. He was passionate about trees, mapping, and gaining insight into forest processes. He loved the outdoors – running, camping, biking, peak-bagging and playing hockey, especially on frozen lakes and especially with children and beginners.
In addition to his wife and children, he is survived by mother Mary (Tom) Gorzycki, father Leo (Millie) Caouette; sisters Therese and Julie and brother Paul Caouette; as well as a large and loving extended family and many dear friends. He will be deeply missed by all whose lives he touched.
The John Caouette Memorial Fund has been established at the Juneau Community Foundation to honor John's memory by supporting causes that were important to him.