Mayor Greg Fisk Memorial Fund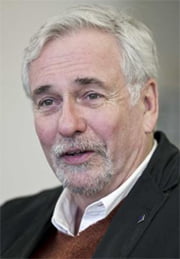 Greg Fisk, Mayor of Juneau, was born Stephen Gregory Fisk, on September 26, 1945 in Montreal, Quebec. His father was an officer in both the Royal Canadian Army and the United States Air Force, and Greg lived in Washington, D.C., Naples, Italy, and Anchorage, Alaska in his childhood. He graduated from West Anchorage High School in 1963 where he was an Alaska state champion swimmer. He attended Indiana University and received a bachelor's degree in Geography in 1970. I 1967, he married Madeleine Lefebvre, of St. Paul d'Abbotsford, Quebec and they settled in Anchorage. His only child, Ian Fisk, was born there in 1971. Madeline and Greg were divorced in 1989.
Through his lifetime Greg held a wide variety of jobs in both Canada and Alaska. In 1974, he was hired by the Northern Quebec Inuit Association and was a Co-Chief Negotiator of the James Bay and Northern Quebec Agreement, a landmark Inuit and Cree land claims settlement. Subsequently, he worked for the Makivik Corporation, which represents the Inuit of Nunavik, and later was engaged in negotiations on behalf of the shrimp industry in Atlantic Canada.
In Alaska he worked for the Arctic Environmental Information and Data Center, the Coastal Zone Management program, the State of Alaska Department of Commerce and the Alaska Trollers' Association, and was a crew member on a seiner in Prince William Sound In 1989, he started his own consulting firm, Seafisk Consulting. He worked on countless development projects primarily n the seafood industry. His many clients included the Bristol Bay Economic Development Corporation, Oceans Alaska Alaska Glacier Seafoods and Taku Fisheries. Greg served in many civic positions: on the Juneau Docks and Harbors Board, Seafood Development committee, and on the Board of Directors of the Juneau Economic Development Council and downtown Business Association. On October 6, 2015, he was elected Mayor of Juneau.
Greg was a enthusiast of many things, especially classical music, cooking, reading about history and current events, traveling, swimming and hiking. he particularly enjoyed dinners with good friends, conversation, music and wine. He was a wonderful father and grandfather. Greg was a dual citizen of the U.S. and Canada, and throughout his life, he was both a proud Alaskan and Québécois. At the time of his death he was very happy in his personal life and very proud to be Mayor of Juneau.