Juneau Alaska Music Matters (JAMM)
"I have had the chance to observe students that I know moving through the primary grades from year to year in the violin program. JAMM does an amazing job of building individual discipline and focus. The after-school program gives these students an opportunity to pursue their musical interests regardless of parental resources, an opportunity that would otherwise not be available in this community."– Deedie Sorensen, Retired Primary Teacher at Riverbend
JAMM is a music enrichment program for children based on the El Sistema model. It empowers children through music to learn discipline and team work. JAMM provides opportunities to children who may not otherwise have the opportunity to learn to play an instrument. This school readiness program helps young children learn how to work together as a team, experience success through community performance and daily practice, and understand that effort and persistence help overcome life's challenges. JAMM provides at least 90 minutes/week of instrumental instruction, tuition free. JAMM looks to focus its efforts where the need is the greatest: Glacier Valley and Riverbend, where the percentages of families eligible for Free and Reduced Lunch are 42% and 50%, respectively. JAMM recently expanded its reach to Floyd Dryden to support its oldest students – incoming 6th graders.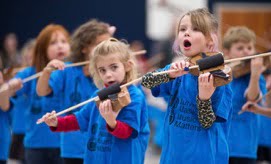 In short, JAMM provides healthy opportunities for Juneau's youth, especially children who otherwise would not be able to participate in a music program due to cost of instruments and instruction. The Foundation has a positive history with JAMM, applauds their results, and supports their five-year plan to expand and include more children. Key areas of need and growth have been identified: 1) instruments and music technology tools; 2) expansion to an additional elementary school; 3) artist in residence to provide instruction and continuity between programs.
Learn more:
JAMM YouTube
JAMM 2016-2017 Annual Report
JAMM Website
To Donate
Donate by credit card via the PayPal link below or make your checks payable to: Juneau Community Foundation, 350 North Franklin Street, Suite 4, Juneau, AK 99801. Remember to include your name and address so that you can receive your tax deduction letter.
If you use PayPal, then please add 2% to your donation to cover the PayPal transaction. To receive your tax deduction letter, please check the box with the option to 'Share my mailing address with Juneau Community Foundation'.
Please indicate "JAMM" in the message section.