Marie Darlin Arts & Literature Prize Fund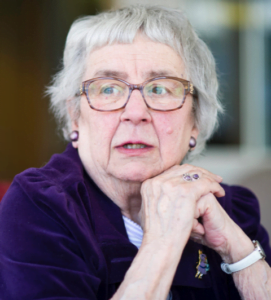 In honor of Marie Darlin, the Juneau Community Foundation and the Friends of the Juneau-Douglas City Museum are raising funds to establish the:
Marie Darlin Arts & Literature Prize
This Prize will honor Marie's remarkable legacy and achievements through an annual grant award for outstanding works of art or literature that enhance our understanding of the social, natural, local, and economic history of the area. The cash prize will be awarded annually by the Juneau-Douglas City Museum, where Marie donated her time, talent and money over many years. The Fund will reside at the Juneau Community Foundation. Marie Darlin's family is thrilled to see this community response to honor Marie and encourages donations to help build and perpetuate the fund in her name.
At the 2018 Annual Philanthropy Awards Dinner, the Juneau Community Foundation continued the tradition of honoring the passion of our Philanthropist of the Year, Michael Blackwell, by supporting a Fund of his choice. True to his self-effacing nature, Mike recommended we commemorate longtime Juneau champion, historian, and community advocate, Marie Darlin, with the development of the Marie Darlin Arts & Literature Prize Fund. Per Mike's wishes, the evening served as a fundraiser for the fund. A $25,000 challenge match was announced at the event and by the end of the festivities, almost $18,000 had been raised. The goal is to raise $100,000 and the annual prize will be $5,000.
Please join us in celebrating both Mike Blackwell and Marie Darlin by making a generous donation!
To Donate
Donate by credit card via the link below or make your checks payable to: Juneau Community Foundation, 350 North Franklin Street, Suite 4, Juneau, AK 99801. Remember to include your name and address so that you can receive your tax deduction letter.
Please consider adding 3% to your donation to cover the online transaction.