Hilda Dam Cabin
Thanks for making new cabin a reality!
Juneau Empire, October 6, 2019
Reed Stoops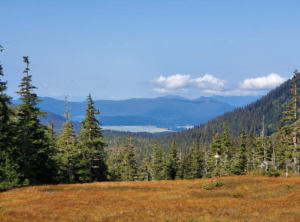 For those who didn't have a chance to participate in the grand opening of the new Hilda Dam Cabin on Discover Eaglecrest Day (9/28/19), I wanted to take this opportunity to thank the many volunteers and partners who helped make this new public use cabin a reality.
The idea of a recreational cabin somewhere up on the mountain at Eaglecrest has been a dream for many people for many years, and the Juneau Community Foundation is delighted to have played a lead role in making it come true for the community. Once the Foundation and key partners identified this project as a priority; it went from an idea to completion in under two years.
The new public use cabin, located on the upper Nordic Loop near the Black Bear chair lift, has a modern design thanks to Zane Jones from MRV Architects with additional contributions by Northwind Architects.
Getting to the cabin is fairly easy. After a 20-minute hike up the service road you cross a new, small bridge (donated by Alaska Marine Lines) and walk through a beautiful short tree lined access road constructed by Dave Hanna of Alaska Concrete Construction, to arrive at the new cabin. Accessibility was a key component of cabin construction.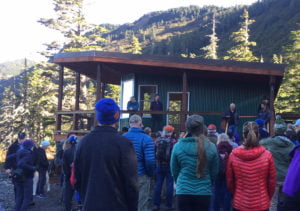 This cabin, built in Triplette Construction's local shop, headed up by Tom Daugherty – who also supervised the final building project with assistance from Jim Triplette – sleeps 6-8 and has outstanding views of Mount Ben Stewart and down the Fish Creek Valley to the Mendenhall Valley and the mountains beyond.
The Juneau Community Foundation led the overall effort and raised $175,000 for the project with more than 60 people donating time, cash and in-kind support.  The two biggest contributions came from the Brakel family (in memory of Matt Brakel), the Newman family (in memory of Casey & Kelly Newman), with all other individual donations ranging from $100 to $10,000.
Dave Scanlan, Eaglecrest Manager, and his crew were extremely helpful in the project, and are excited to take over management of this wonderful year-round addition to Eaglecrest Ski Area. They hope to be taking cabin reservations as early as this November. The Eaglecrest Foundation provided additional support to this project.
The Juneau Community Foundation expects that this will be a popular addition to our local outdoor recreation infrastructure. During the short presentations by key project partners leading up to the ribbon cutting, the "cabin story" of community will and collaboration became apparent to the enthusiastic crowd who gathered to celebrate the accomplishment. If you want to help make similar projects become a reality in the future, please consider donating to Foundation's Parks, Trails &  Recreation Fund!
Reed Stoops
Juneau Community Foundation
Hilda Dam Cabin Grand Opening – Press Release
"The Eaglecrest Cabin Project"
Big thanks to our generous donors who have made this possible!
We are still accepting donations in support of this community project. Your contribution will help fund any additional expenses incurred during the final stages of cabin preparation and the early stages of cabin use. Join your friends and neighbors who have helped make this new public use cabin a reality!
Eaglecrest Cabin Project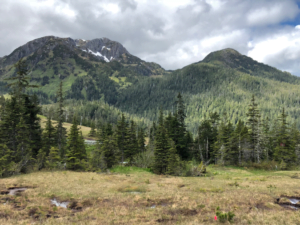 Juneau Community Foundation, Eaglecrest Ski Area and the Eaglecrest Foundation are pleased to announce a partnership organized for the purpose of building a new public access cabin at Eaglecrest. For more than 20 years, Eaglecrest has held the goal of building a public use cabin in order to expand their outdoor recreation facilities and to increase year-round use of their extraordinary property in the interior of Douglas Island. The Juneau Community Foundation and the Eaglecrest Foundation support this goal and the Eaglecrest Cabin Project is now being actively pursued.
Living in this northern temperate rainforest is not for everyone. For those hardy folks who adapt to our cool, moist climes, the quality of life here is high. No surprise, Juneauites are outdoor recreation enthusiasts, rain or shine – camping, hiking, skiing, hunting, fishing, wildlife viewing, gardening – you name it, people are outside and going for it year-round. To that end, for many years, locals have talked about constructing new cabins in order to meet the demand. Juneau's public use cabins are very popular with locals and visitors alike, often these cabins are booked six to twelve months in advance. Adding an accessible, off-road shelter will help address high local demand and increase Juneau's appeal as a destination for independent travelers.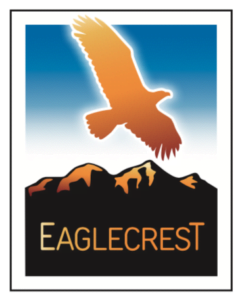 Eaglecrest, Juneau Community Foundation, local architects, engineers, contractors, and community volunteers have been meeting for more than a year to develop this project. The public is invited to learn more about the cabin concept, fundraising and construction plans. Eaglecrest will oversee project development and assist with fundraising. Upon completion, Eaglecrest will own and operate the cabin on a year-round basis. The Juneau Community Foundation will help raise funds, secure pro bono support, and provide financial administration for the project. The Eaglecrest Foundation is an important fundraising partner and community advocate. The goal is to break ground this summer.
The cabin will accommodate day use and overnight stays with 6 to 8 beds for campers, hikers, wildlife viewing, skiers and other back county uses. It will be located roughly one mile from the parking lot in the vicinity of the historic Hilda Valley Dam at the start of the Treadwell Ditch Trail, adjacent to the Nordic Upper Loop ski area. The location offers excellent vistas of the upper Fish Creek Valley and Mt. Ben Stewart and easy access for maintenance and cabin users.
The Eaglecrest Cabin Project partners will make a presentation of the cabin concept, and construction and fundraising plans on June 14 from 5:30pm-6:30 p.m. at the Eaglecrest Lodge.
Cabin Design Images courtesy Zane Jones of MRV Architects.
Project Budget
Project Cost
In-Kind Contributions
Construction & Materials
Site Preparation & Access
Project Revenue
In-Kind Contributions
Cash Goal
Cash Already Raised
Eaglecrest Foundation
Juneau Community Foundation
Generous Donors
$175,000
$50,000
$100,000
$25,000
$175,000
$50,000
$125,000
$123,896
$22,500
$22,500
$78,896