R.J. Gordon & R.T. Wallen Fund for SEACC
Purpose:  to establish an endowment that will provide annual funding to the Southeast Alaska Conservation Council.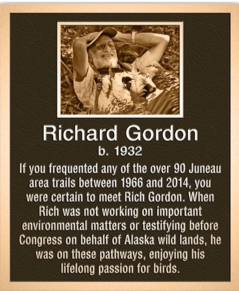 Richard Gordon and R.T. Wallen ("Skip") have been friends since their college days in the Zoology Department of the University of Wisconsin.  Both moved to Alaska following graduation, both worked for the Department of Fish & Game, and both spent considerable time and effort on various environmental conservation projects.
Both were founding members of the Steller Society (which later became the Juneau chapter of the Sierra Club), founding members of SEACC, and founding members of the Friends of Admiralty Island.  Both were contributors to the 1973 special edition of Alaska Geographic entitled Admiralty…Island in Contention at a time when a small group of environmentalists was trying to protect the island from clear-cut logging.  That group's efforts culminated in the creation of Admiralty Island National Monument.
Rich was instrumental in identifying wilderness lands all over Alaska that qualified for the Alaska National Interests Lands Conservation Act.  He spent 13 years working toward the establishment of Gates of the Arctic National Park.  Skip's wife Lynn nominated Rich for the Celia Hunter Award for Outstanding Volunteer Contributions, which he received from the Alaska Conservation Foundation in 2005.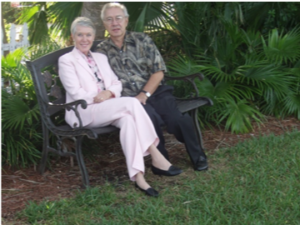 Excerpt from the 2006 Honorary Doctorate award, University of Alaska:
His love of Alaska drove Skip to become a pioneer in the Alaska conservation movement, working to help get protected status for places such as the Chilkat Eagle Preserve, the Mendenhall Wetlands, Admiralty Island National Monument, Petersburg Creek Wilderness, and the extension of Denali National Park.  He has also donated his artwork to state and national conservation fundraising efforts as well as to local organizations.
As longtime supporters of Alaska conservation, Rich, Skip and Lynn want to ensure that the work to preserve Alaska's pristine wilderness continues in perpetuity.  They hope others will join them in funding the Southeast Alaska Conservation Council (SEACC).
To Donate
Donate by credit card via the link below or make your checks payable to: Juneau Community Foundation, 350 North Franklin Street, Suite 4, Juneau, AK 99801. Remember to include your name and address so that you can receive your tax deduction letter. Please consider adding 3% to your donation to cover the online transaction.