2017 Hope Endowment/CBJ Social Service Grants
Juneau Community Foundation Partners with CBJ, Avista and United Way of Southeast Alaska – Awards over $1.8 million to local social service organizations.

The Juneau Community Foundation has awarded $1,883,222 in grants to local nonprofit organizations following several months of coordinated effort to identify priority social service needs and review applications.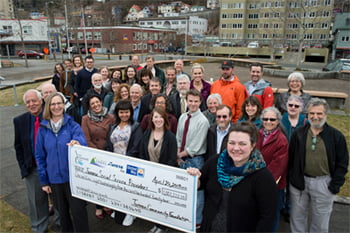 These grants are provided through a unified process that includes funding from the Juneau Community Foundation's Hope Endowment Fund ($1,029,322), the City and Borough of Juneau's Social Service Funds ($781,000), the CBJ Utility Waiver Program ($47,500), Avista Corporation ($20,000), and United Way of Southeast Alaska ($5,000).
The purpose of these funds is to help Juneau's most vulnerable residents, by increasing support for nonprofit service providers in these areas: homelessness, food security, addiction, domestic violence, suicide prevention, senior care, hospice, mental and physical health, education and income stability.
The grants were determined based on input from local nonprofit organizations, community members, and the Juneau Community Foundation's Professional Advisory Committee. The grant process is designed to encourage coordination among social service programs.
"We begin this annual process with Listen and Learn sessions where community organizations discuss and identify the greatest needs in each funding area. It has resulted in increased partnerships – government, nonprofits and local businesses all contributing funding and expertise to address the identified needs," stated Amy Skilbred, Foundation, Executive Director.
The Juneau Coalition on Housing and Homelessness submitted a coordinated proposal addressing priority needs in this area: flexible funding for rapid rehousing, community navigators to connect people with services, operating assistance for the new Housing First facility, and funds to ensure that other programs addressing homelessness continue.
Reed Stoops, Chairman of the Juneau Community Foundation's Grants Committee, said, "The value of the Coalition's 3-year coordinated proposal is that nonprofit organizations addressing homelessness came together to decide what was best for their clients and get funding for that, even if it didn't fund their organization. This promotes efficiency and effectiveness, and enables everyone to begin to develop measures for success rather than worrying about the next grant cycle."
A total of 35 grants will be awarded to 23 organizations, and six nonprofits that provide housing will receive CBJ Utility Waiver support.
These grants will address some of the priority social service issues facing our community including:
supporting emergency, transitional, and permanent housing assistance for the homeless
providing trauma care for children
connecting people to mental health and substance abuse services
ensuring crisis intervention training for our police
increasing assistance to women and children suffering domestic abuse
augmenting school food programs to ensure children and youth are not hungry at school
providing mentoring, job training, civil legal support, and day programs
educating the community in suicide prevention
supporting seniors and their families
"Juneau has wonderful, hardworking professionals leading our social service nonprofits. The Community Foundation brings them together to coordinate efforts to yield greater impact in our community than any one organization can do alone. We appreciate the difficult work they do to make sure the funds address priorities," Juneau Mayor Ken Koelsch said.
The Juneau Hope Endowment Fund was established in 2014 and is managed by the Juneau Community Foundation to provide social service grants on an annual basis. This is the second year that the City and Borough of Juneau has had the Community Foundation conduct the grant process for the city's Social Service Grants. Uniting these funding sources in one grant process amplifies the community impact and reduces grant management for all grantees. CBJ's Social Service grants are funded in part through the city's tobacco tax.
"This process is effective and while our community is generous, generosity is needed probably more today than it has been in a long time. Even with these grants, social services are getting squeezed and with declining federal and state funds, it will only get harder. So we need more people to step up and help address these issues," offered Mike McKrill, President, Juneau Community Foundation.
For more information or to find out how you can support social services for our most vulnerable residents in Juneau, contact Amy Skilbred at the Juneau Community Foundation office at 523-5450 or [email protected].
List of organizations receiving grants:
Alaska Legal Services
Association for the Education of Young Children
AWARE
Big Brothers Big Sisters
Catholic Community Services
Eagle River Methodist Camp
Feeding Juneau's Future
Gastineau Human Services
Glory Hole
Haven House
Housing First
Juneau Coalition on Housing and Homelessness
Juneau Police Department
Juneau Youth Services
National Alliance on Mental Illness
National Council on Alcohol and Drug Dependence
Northern Lights United Methodist Church
Polaris House
Riverbend Elementary School
SAIL
St. Vincent de Paul
SERRC
Zach Gordon