Explosion of Harmonic Crunchiness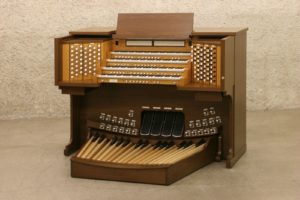 An explosion of harmonic crunchiness — coming soon to a venue near you! (From a journalist's description of French organist and composer Jehan Alain's Litanies.)
A concert-quality organ has been donated to Church of the Holy Trinity. This is a modern concert-quality four-manual organ capable of producing any style of organ music with extraordinary fidelity. To realize its potential for the Juneau arts community the church must acquire and install eighteen speakers and "voice" the organ.
The Church of the Holy Trinity is one of Juneau's preferred performance venues – it is a beautiful performance space, stunning actually, with excellent acoustics, and is a real delight for Juneau's professional and amateur performers and a favorite of Juneau's audiences. Holy Trinity has close working relationships with the Juneau Lyric Opera, the Juneau Bach Society, Juneau Jazz and Classics, the Juneau Symphony, the Juneau Arts & Humanities Council, and a dozen other performing arts groups. A concert-quality organ at Holy Trinity is going to play an active role in the Juneau arts community.
In fact, performing arts groups and Juneau organists are exploring ideas for concerts and workshops featuring this exciting new community resource. But first Holy Trinity must raise $22,500 for the speakers and voicing.
To reach this goal we need your assistance.  Please donate!
Donate Now –so we can all start enjoying the wonderful music of this instrument.