Flats Fix-It Facility – Project Completed!




The Flats Fix-it Facility is a community-owned facility meant to assist cyclists with routine bike maintenance and emergency repairs. The facility will be located at the corner of 9th Street and Glacier Avenue, in the heart of the downtown cycling corridor and the "Federal Flats" neighborhood. The facility will include a bike stand, tools, and a manual air pump with tire gauge. It will be industrial grade, built to withstand the harsh Juneau weather conditions.
Where Will It Be?
Glacier Ave & W 9th St Juneau, AK 99801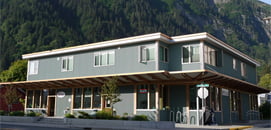 How Can I Help?
The cost for the equipment and shipping will be $1500. Donations are needed from the community to make the project possible.
Donors giving $20 or more will receive a free sticker.