Project Playground – Twin Lakes
After two and a half years of planning, Project Playground was built as a labor of love by teams of volunteers during May of 2007. For the last ten years, Project Playground has been maintained and improved by the Friends of the Playground, CBJ, and SAIL.
The April 24 fire that burnt down Project Playground sent a ripple of concern across our community and statewide. Fundraisers were held by many entities and the Foundation is serving as a conduit to help manage the funds. Several members of the initial Steering Committee, together with CBJ, formed a new Steering Committee to help guide the process of rebuilding Project Playground.
The Steering Committee is now actively working with the community to rebuild Project Playground. This will be a hybrid approach using contractors and volunteers. The Steering Committee built a new website so that the latest news and information can be shared in a timely manner, the new website: www.goprojectplayground.org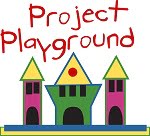 Your efforts to rebuild Project Playground, whether through time, energy, ideas, or money, is what will make the new Project Playground a great success. Rebuilding will likely start next spring. To provide an in-kind donation, please contact CBJ's Alexandra Pierce at: [email protected]
Thank You Generous Business Donors
The outpouring of support to rebuild the beloved playground has been truly amazing with numerous fundraisers and more than 225 donations – large and small, cash and in-kind – received thus far from businesses, foundations, and many individuals. Your efforts to rebuild the playground, whether through time, energy, ideas, or money, is what will make the new Twin Lakes Project Playground a great success. On behalf of the community, thank you to everyone who has made a donation.
Special thanks to these businesses and organizations for their generous support:
Cruise Industry Charitable Foundation
Tlingit & Haida Central Council
Alaska Airlines
Capitol Disposal/Waste Management
Conoco Philips
Alaska USA Federal Credit Union
IGA-Foodland Super Bear
Hyak Mining
Above & Beyond Alaska
Alaska Electric Light & Power
Juneau & Vicinity Building
Juneau Snowmobile Club
NATCA Charitable Foundation
Jesse L. Carr Charity Fund
Filipino Community
British Petroleum
Teamsters Local 959
Trust Consultants
Exxon Mobil
Golden Wheel Amusement
JCM Rentals
Southeast Alaska Board of Realtors
Juneau I LLC
Dahlberg Design
Bickford Pacific Group
Blue Mussel Aesthetics
Chitty & Chitty
Southeast Panhandlers
Juneau Volunteer Fire Department
Women of the Moose Juneau Chapter 439
A big thank you to Kevin Jardell, Senate President Pete Kelly, and the following people and businesses who made the Rockin' the Park Concert such a success!
Kevin Jardell
Sen. Pete Kelly
Rep. Dan Saddler
Rockwell Ballroom
Hanger on the Wharf
Alaska Brewing Company
K & L Distributing
Alaska Music One
Taku Lodge
Gold Creek Salmon Bake
Alaska Airlines
Mayor Ken Koelsch
Wings Airways