WORLD IN PROGRESS: Arts-Based Racial Justice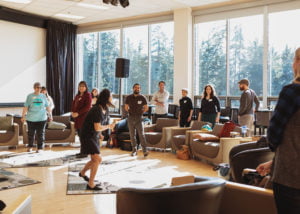 We believe art can be a powerful tool for social justice, as both a catalyst and a vehicle for conversation. As artists and teaching artists, we recognize the opportunity for art to be used as a method for facilitating dialogue, especially across cultural groups. Organizations in Juneau and across Alaska have been initiating discussions on equity issues, but have not had the local resources available for engaging in the deep learning and institutional reflection necessary to promote widespread change. Our vision includes the development of an innovative arts-based racial equity curriculum that will build on best practices in racial justice education and facilitation methods, while infusing our own creative practices to engage learners from diverse experiences. This curriculum will be used to facilitate collaborative learning environments that place the individual experience at the center while establishing institutional commitments and change. Together we can work towards a world that recognizes a shared liberation, where it is necessary to work together for justice because our needs and our celebrations are bound together.
Project History
In the summer of 2016, Melissa Garcia Johnson (Mexican American) and Christy NaMee Eriksen (Asian American) organized and facilitated an arts-based racial equity event in partnership with the University of Alaska Southeast. The event, which was free and open-to-the-public, was attended by approximately 100 people and communicated a yearning for more learning opportunities. However, the time required to prepare continued learning and organize institutional partnerships has been prohibitive to expanding the project. Funding for this project would financially support Ms. Garcia Johnson and Ms. Eriksen to create a curriculum, a post-workshop resource guide, and outreach plan necessary to offer training that can meet the needs of local and statewide partners.
Project Curriculum
Social justice is an important value to strive for in our state, as historically oppressed communities continue to struggle for equal rights and access to services. With this in mind, we seek to partner with leaders from organizations that are interested in examining their roles in racial justice.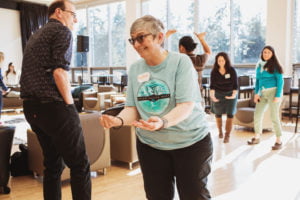 Through the use of a cohort model, leaders from partner organizations would participate in a daylong arts-based racial equity training. The training would guide the cohort through creative, participatory activities that place individual experience at the center, while establishing organizational commitments to continue on together after the training is complete. Cohort members would receive a post-workshop resource guide, which would encourage them to examine the lessons they learned while providing opportunities for the cohort to take considerable steps towards action.
This structure allows for both individual reflection as well as an opportunity for participants to examine their own organization's role in social justice. Recognizing that racial equity is a practice, not a checklist, and that we are bound together in community and in healing, cohorts are built to serve as intentional, long-term learning communities. These cohorts then maximize cross-organizational partnerships and collaborative support to develop lasting relationships and allies in the social justice field. Thus, the social justice sector becomes strengthened through individual, institutional, and community-wide commitment.
Funding for this project will serve as a pilot for a larger program, sustained by organizational commitments. While the main audience of this pilot will be community organizations, the nominees also believe there is value in offering these tools to the Juneau public and will facilitate at least one, free public training after the materials are complete.
Project Developers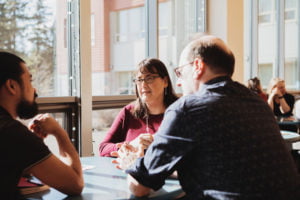 Melissa Garcia Johnson and Christy NaMee Eriksen have both had considerable training and experience in racial justice, conflict studies, and community organizing. Both women are highly adept at developing strong working relationships with a variety of individuals, groups, and institutions. You can find them anywhere from poetry slams to board rooms, protest rallies to coalition meetings. Their ability to combine on-the-ground organizing with meaningful collaborations in their daily work is a premonition of their success in carrying out this project.
Melissa holds a M.A. in Conflict Transformation with a concentration in Psychosocial Trauma and Peacebuilding, as well as a B.A. in Peace Studies with a minor in Community Engagement. Her work both internationally and in the US have called upon her skill in culturally-sensitive trauma healing and restorative justice-focused facilitation, where she seeks to hold space for individuals and communities to confront division and discord with the intention of healing complex trauma and, eventually, deepening relationships. Within the Juneau community, Ms. Garcia Johnson has sat at the table on a number of coalitions, including the Juneau Violence Prevention Coalition, the Suicide Prevention Coalition, and the Partnership for Children and Families. It is in these spaces that she seeks to deepen understanding and reflection on the unique experiences of underserved individuals while challenging organizations to think outside the box in how they serve and engage their community.
Christy NaMee Eriksen holds a B.A. in Social Justice/Racial Justice and a Certificate in Conflict Studies, has received training from the First Alaskans Institute on the Alaska Native Dialogues on Racial Equity project, and brings over 14 years of experience as a practicing artist, teaching artist, and community organizer. Her work as co-founder and President of Woosh Kinaadeiyí (a grassroots spoken word poetry group) has anchored her position as an emerging arts and community leader. In her service on the Juneau Arts and Humanities Board of Trustees, Ms. Eriksen has been consistently dedicated to challenging the organization to consider populations who are underserved in the Juneau community and how to better integrate the values of diversity, inclusion, and equity into every practice within the organization. As an educator she naturally melds art teaching with group facilitation to develop an interactive style that has been recognized for creating safe spaces for difficult topics, including conversations on race and racism.