Science, Technology, Engineering, Math – STEM
"In the 21st century, scientific and technological innovations have become increasingly important as we face the benefits and challenges of both globalization and a knowledge-based economy. To succeed in this new information-based and highly technological society, students need to develop their capabilities in STEM to levels much beyond what was considered acceptable in the past."– National Science Foundation
The Foundation has a positive history with local STEM programs. We see the wisdom in growing community awareness and support for these stimulating youth activities. We seek to help organizations implement or expand programs and to ensure that all children, regardless of economic status, have the ability to participate. Enhancing exposure to STEM and giving youth opportunities to explore STEM-related concepts will improve their understanding of the world and provide life-long problem solving skills.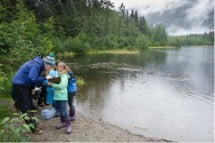 STEM involves a broad spectrum – school curriculums, after school programs, extracurricular activities, life-long learning and more. The Youth Fund's initial STEM focus is on opportunities that exist outside of the classroom or that are brought into the schools by established local STEM partners such as Discovery Southeast and STEM AK: events, activities and programs that help foster student interest and competencies in STEM fields. The Juneau STEM Coalition is a volunteer group with a mission to support Juneau to develop lifelong STEM skills. The Coalition has broad representation from the community, experts in the field who are collectively trying to support and advance local STEM opportunities. Our Youth Fund champions will tap the Coalition's expertise to identify priority opportunities around which to promote increased philanthropy in Juneau.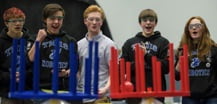 Initial STEM priorities:
Programs & Camps such as those offered by STEM AK and Discovery Southeast
Scholarships, transportation, facilitating access
Consumables, materials, supplies
Learn more:
STEM AK
Discovery Southeast
Juneau STEM Coalition Facebook
To Donate
Donate by credit card via the PayPal link below or make your checks payable to: Juneau Community Foundation, 350 North Franklin Street, Suite 4, Juneau, AK 99801. Remember to include your name and address so that you can receive your tax deduction letter.
If you use PayPal, then please add 2% to your donation to cover the PayPal transaction. To receive your tax deduction letter, please check the box with the option to 'Share my mailing address with Juneau Community Foundation'.
Please indicate "STEM" in the message section.