The New Glory Hall Special Project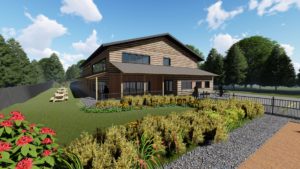 The Glory Hall is an emergency shelter, soup kitchen, and care center established in 1982. Our mission is to provide food, shelter, and compassion to those most in need to help achieve well being. Annually, the Glory Hall provides over 55,000 meals and over 11,000 safe shelter nights. Additionally, the Glory Hall provides transportation assistance, laundry, showers, social services referrals, limited case management, assistance with housing searches, and other needs based assistance. The Glory Hall also coordinates the development and operations of the Juneau Housing First Collaborative project.
The Glory Hall has operated out of our 247 S. Franklin Street location since 1994. After much thought and deliberation, discussion with patrons and partners, and consideration of future financial security, the Glory Hall board has decided to pursue a move out of downtown Juneau in order to best meet the needs of the Glory Hall patrons.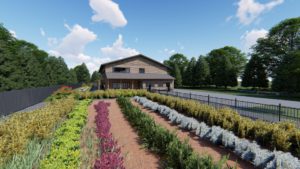 The current emergency shelter is located on the 3rd floor and is not accessible by an elevator. Individuals with mobility issues cannot access the shelter and are accommodated on the 2nd floor, which presents challenges. The current shelter is equipped with 40 bunk beds. That means that there are only 20 bottom bunk spaces and in the winter, when the shelter is full or often over capacity, individuals with varying levels of disability must debate who will and will not be able to sleep on the bottom bunk. Every inch of the building is utilized and there is not room for adequate and secure storage of patrons' belongings or for program belonging. There is no secure space around the parameter to enable patron and staff security. A patron leaving the Glory Hall walks into the stressful environment of Franklin Street, an environment often not conducive to recovery or well being.
It may be difficult for some to square this move and it's associated costs with our current State budget uncertainties which are threatening some of the operating funding for TGH. This is understandable, so it's important to understand that one of the less-discussed drivers of the move is greater economic independence for TGH, reducing dependence on outside funding to ensure its ability to serve its mission over the long term. The current TGH building is owned outright by TGH and is a potential revenue source that could help achieve greater financial independence. If we are successful in achieving this relocation, the current building will be put to its highest and best use from a commercial zoning standpoint which will directly accrue to the economic sustainability of TGH and indirectly, the economic vitality of South Franklin.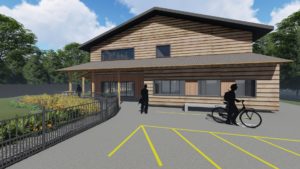 The proposed new site is located in the valley with immediate access to the bus line and other services. The new building includes many programmatic improvements, most importantly private sleeping and secure storage space for patrons, adequate meeting spaces with service providers, and potential for a secure outside area.
The first step of the process is securing site control. $300,000 must be raised by September 1 to maintain site control option. Please join us in making the new Glory Hall
a reality. No donation is too big or too small.
The New Glory Hall Facility Concept Design
To Donate
Donate by credit card via the PayPal link below or make your checks payable to:
Juneau Community Foundation, 350 North Franklin Street, Suite 4, Juneau, AK 99801.
Remember to include your name and address so that you can receive your tax deduction letter.
If you use PayPal, then please add 2% to your donation to cover the PayPal transaction. To receive your tax deduction letter, please check the box with the option to 'Share my mailing address with Juneau Community Foundation'.