Treadwell Ditch Trail Renovation Project
Matching Funds Have Been Raised!
The Alaska Department of Fish & Game (ADF&G) awarded a $660,000 grant to the Juneau Community Foundation's Treadwell Ditch Trail Renovation Project. The grant pays for 75% of the total project cost with a 25% local match required. Thank you to all of our local donors who helped us meet the $220,000 cash match requirement. The project is making the Treadwell Ditch Trail accessible, safe, world class, from beginning to end!
Learn more about the grant award and project work scope.
Project Cost
Project Revenue
ADF&G
Community Cash Match
Community Cash Match Already Raised
City & Borough of Juneau
Local donors
Remaining Local Match To Be Raised

$880,000
$660,000
$220,000
$100,000
$120,000
$0
Thank you, generous donors!
Treadwell Ditch Trail Renovation Project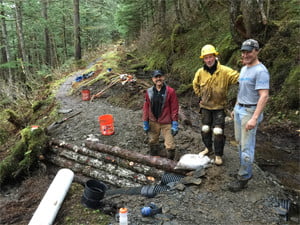 Renovation of the historic Treadwell Ditch Trail has long been a community priority. In the area of Parks, Trails and Recreation, the Juneau Community Foundation's top priority is to assist Trail Mix, Inc., USFS, State and CBJ in completing the Treadwell Ditch Trail Renovation Project. Repair work in recent years brought greatly increased access and recreational use for multiple user groups. We believe the community will enthusiastically embrace the completion of this project sooner rather than later.
Juneau is actively building a world class trail system. The Treadwell Ditch Trail is an integral part of that system and continues to be popular despite only a third of its 14.2-mile length having been renovated. The Treadwell Ditch Trail runs from Eaglecrest to the Mt. Jumbo Trail in Douglas. Its rich history, a 1% grade, and multiple established access points keep it popular with hunters, hikers, runners, mountain bikers and winter trail enthusiasts. The 1993 CBJ Juneau Trails Plan highlighted Treadwell as the top community trail priority for upgrading and multi-use.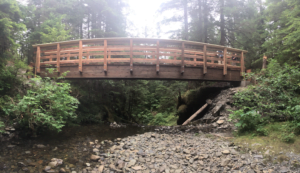 The CBJ's Parks & Recreation Master Plan Preliminary Findings (December 2016) reaffirmed the Treadwell's priority and reported that "Hiking is overwhelmingly the most popular recreational activity in Juneau. In the past 12 months, 89% of Juneau residents used Juneau trails for walking, hiking, running, cross country skiing, biking and other forms of recreation; with 78% ranking city trails as high or very high value to the community. Many commenters suggested continued maintenance and improvements on existing trails, notably Treadwell Ditch Trail…"
As a part of this trail renovation effort, Trail Mix just completed a thorough trail analysis and identified the need for repairs and improvements: bridges/retaining walls, turnpike/gravel fill, stone removal/manipulation, trail widening/relocation, drainage ditches/root removal and stone fords/culverts. The analysis divided the trail into five sections and estimated repair costs of at least $650,000. Matching funds, in-kind donations from local business and volunteer trail work will lower the overall dollar cost significantly. The Foundation's community fundraising goal is $400,000. On-the-ground work will take three years to complete.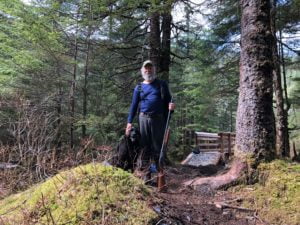 Without broad community fundraising support, it will take many years before government grant funding allows for completion of this project. We believe it is in the community's best interest (recreation, health, tourism) to see this trail renovation completed sooner rather than later. The Foundation's collaboration with Trail Mix, CBJ, USFS, many volunteers and local businesses will leverage funds, resources and people power to accomplish the goal. In fact, there is already a volunteer trail crew of 18 people who will assist with trail maintenance, renovation and small bridge work starting this season.
To learn more about the project:
Project Map
Trail Mix
To Donate
Donate by credit card via the link below or make your checks payable to: Juneau Community Foundation, 350 North Franklin Street, Suite 4, Juneau, AK 99801. Remember to include your name and address so that you can receive your tax deduction letter.
Please consider adding 3% to your donation to cover the online transaction.