Youth Fund
Supporting local youth is one of the most far-reaching approaches to building a healthy community. Youth programs and activities enrich individual lives and stimulate positive social interaction, while also showing kids the benefits of community organizations and civic participation. More broadly, an investment in local youth represents an investment in the future of our community.
It is widely held that youth activities provide an 'ounce of prevention' against crime, alcohol, and drug use and that constructive activities for children and adults contribute to a healthy and safe community. "Many respondents noted that this is especially true for youth and that affordable programs, after school activities, and identification and removal of barriers to participation for disadvantaged youth are important functions for Parks & Rec. Outdoor programs for youth, indoor programs for youth, afterschool programs for youth and summer youth programs were the top four most important investments in programming cited by phone survey respondents."
– CBJ Parks & Recreation Master Plan Preliminary Findings, December 2016
The Youth Fund supports projects and programs that bring people together around the shared goal of providing local kids with the opportunity to participate in cultural, artistic, athletic or academic activities regardless of economic status.
Our goal is to increase local philanthropy for positive near and long term impacts on youth. By joining other like-minded people, you can help build funds to support youth activities, today and in the future. Through the fund, individuals and businesses pool their resources to achieve greater community impact through a range of current programs, successful programs that could be brought to scale, or new programs that fill in gaps.
In launching this new fund, the Foundation seeks to bring additional resources to this community priority, add value to the commendable work already being done by the City & Borough of Juneau (CBJ), the Juneau School District (JSD) and a myriad of nonprofits. Our champions aim to do so in a manner that is complementary, helpful to our partners, and does not duplicate existing efforts.
Youth is a field of interest that spans a lot of territory. In making this a priority for fund development, the Foundation promotes equity and access while supporting activities, events, camps, afterschool programs that make a difference in the lives of children. We seek to raise funds for that purpose. Engaged 'community champions' and strong partner organizations are key to our success. We can only do this with your help. Please join us!
In conversations with community leaders and youth champions, three initial areas have been selected for support because of their positive impact on youth, both by capturing their imagination and instilling skills needed for success in school and in life.
Arts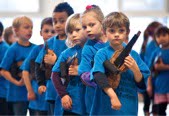 We know from research that students who have access to arts courses have a better chance of succeeding in school, work, and life. And yet access to arts education in Juneau is uneven. The Foundation in concert with projects like Any Given Child, the Juneau Arts & Humanities Council, and the JSD is focused on broadening the availability of arts to all children. There is much that can and is being done in this area. The Foundation is excited to help with outreach and bring additional resources to yield greater impact in arts education opportunities for youth.
The initial priority is bringing a program that works to scale: expanding the Juneau Alaska Music Matters (JAMM) program checks all the boxes. JAMM uses music as a vehicle for positive social change and educational outcomes. Through music, this program develops youth resiliency, teamwork, and self-confidence to empower, inspire and strengthen communities. A tuition free music program, JAMM helps children develop focus, self-control, leadership skills, and teamwork through ensemble opportunities. Students experience success through community performance and daily practice, and understand that effort and persistence help them overcome life's challenges.

STEM
STEM stands for Science, Technology, Engineering, and Mathematics.
"STEM education is an economic imperative. Experts say that technological innovation accounted for almost half of U.S. economic growth over the past 50 years, and almost all of the 30 fastest-growing occupations in the next decade will require at least some background in STEM. STEM literacy is also critical because it has a profound and growing impact on our day-to-day lives. It helps us make critical decisions about our health care, our finances and our retirement. It illuminates the ever more complex issues that govern the future of our democracy, and it reveals to us the beauty and power of the world we inhabit. A literate nation not only reads. It computes, investigates and innovates."
– Change The Equation.org, 2010
STEM activities and opportunities are important for a child because they pervade every part of our lives. Science is everywhere in the world around us. Technology is continuously expanding into every aspect of our lives. Engineering is the basic designs of buildings, roads, bridges, but also tackles problem solving challenges such as our changing global weather. Mathematics is in every occupation, every activity we do in our lives. Enhancing exposure to STEM and giving youth opportunities to explore STEM-related concepts will improve their understanding of the world and provide life-long problem solving skills.
STEM involves a broad spectrum – school curriculums, after school programs, extracurricular activities, life-long learning and more. The Youth Fund's initial STEM focus is on opportunities that exist outside of the classroom or that are brought into the schools by established local STEM partners such as Discovery Southeast and STEM AK: events, activities and programs that help foster student interest and competencies in STEM fields.
The Juneau STEM Coalition is a volunteer group with a mission to support Juneau to develop lifelong STEM skills. The Coalition has broad representation from the community, experts in the field who are collectively trying to support and advance local STEM opportunities. Our Youth Fund champions will tap the Coalition's expertise to identify priority opportunities around which to promote increased philanthropy in Juneau.
Initial STEM priorities:
Programs & Camps such as those offered by STEM AK and Discovery Southeast
Equity: scholarships, transportation, facilitating access
Consumables, materials, supplies
Scholarships
"The need to identify underserved communities and develop a strategy to eliminate barriers to participation for underserved residents is a stated goal of the master planning process, and Juneau residents agree, with many citing specific cultural communities and others stating a need for programs for at-risk youth, after school programs, and expanded programs to make recreation more affordable to all Juneau residents. One quarter of youth do not participate in recreation activities they would like to, with lack of free time and money the most frequently cited barriers. Notably, transportation was the third most cited barrier for youth."
– CBJ Parks & Recreation Master Plan Preliminary Findings, December 2016
Equity and access is at the heart of our commitment to Juneau's youth. By engaging the community to increase support for JAMM, STEM, and other youth activities, we seek to facilitate program execution, expansion, and increase participation for economically disadvantaged youth. CBJ and many non-profits are doing the right thing by offering varying degrees of financial support for low-income youth that may not otherwise be able to participate in activities. The Foundation also has several donor-advised funds that provide annual scholarships in different areas. Yet, financial barriers continue to preclude participation for many.
Constructive activities for youth contribute to a healthy and safe community. The Youth Fund will strive to remove barriers to participation. The Foundation seeks to 1) increase community investment in a general youth activity scholarship program, and 2) improve the participation rate for low-income families. Champions will help accrue funds for this purpose and work with key partners who can help connect scholarships to kids who are eager to participate but lack the resources.
Community Champions & Philanthropic Partners
"We are very pleased to be able to donate to the Juneau Community Foundation and its newly established youth fund. We share in the belief that involving our younger generation in worthwhile activities is vital to our community and its future. SECON is committed to Juneau and this is our way of contributing to the community we live, work and play in."
– Tim Dudley, General Manager, SECON
Our initial focus is on the JAMM program, the STEM field, and scholarships. The Youth Fund will expand into other areas, such as athletic and outdoor recreation activities, as community champions bring their passion and commitment to the effort.
Community champions are passionate about providing all youth with healthy, constructive opportunities to learn and grow; and removing barriers to participation. They give financially, ask others to give, and if interested, they participate in project development and implementation. These champions will help steward projects to completion.
Foundation Board Leaders: Rick Shattuck, Mandy Mallott, Geoff Larson, Candy Behrends
Community Champions: Bob & Karen Rehfeld, Skip Elliot, Doug Murray, Jim & Karen Housley, Eric Olsen & Vicki Bassett, Paul Douglas
Community Partners
Juneau Alaska Music Matters
Juneau Economic Development Council
Any Given Child
Zach Gordon Youth Center

STEM Coalition
Juneau School District
First Bank

To learn more about these Foundation priorities, and how to contribute to them, please click on these links

To Donate
Donate by credit card via the link below or make your checks payable to:
Juneau Community Foundation, 350 North Franklin Street, Suite 4, Juneau, AK 99801.
Remember to include your name and address so that you can receive your tax deduction letter.
Please consider adding 3% to your donation to cover the online transaction.