---
The Juneau Community Foundation promotes philanthropy and effectively responds to the needs of our community to create a healthy, safe, and culturally rich environment.
---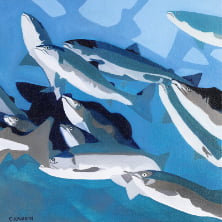 2021 Individual Artist Awards grant application period is now open. With a nod to the arts, Juneau Community Foundation announces round two of this new grant program for local artists. The Individual Artist Awards grant program is dedicated to the development of local artists in their pursuit of the creation of original works, by fostering the creative process that produces their vision. Deadline is March 15, 2021. Learn more. To apply.
United Human Services Nonprofit Center Fund. For our neighbors who find themselves in need of social services in Juneau, a brighter future will be found inside the walls of the Southeast Community Services Center.  The Southeast Community Services Center will feature wrap-around services and programs by housing multiple organizations that serve people experiencing disabilities, at-risk youth, elders and low-income community members. The Southeast Community Services Center – Nonprofits Collaborating for a Healthy Community. Learn more.
Friends of Gustavus Fund. Gustavus residents are fiercely proud of their community and continually commit their time and resources to projects for the betterment of all. This is how the Friends of Gustavus Fund began; with a dream of providing the means for enhancing the quality of life within their town. The Friends of Gustavus Fund is building a long-term charitable endowment for their community. Learn more.
---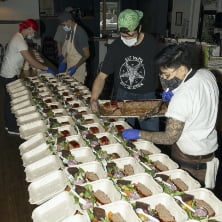 COVID-19: Much Needed Community Support. Because of donors like you we are able to keep serving the community by providing over $86,000 in new grants from our COVID-19 Food and Community Assistance Funds to help during the ongoing pandemic: $50,000 for United Way of S.E. Alaska's Juneau Cares Meals Program. $21,740 for the Safe Space For School Program run by Shepherd of the Valley and Resurrection Lutheran Churches. $15,000 to support opening a Juneau Youth Shelter as Juneau does not have an emergency shelter for youth. These grants are targeted toward filling in some of the most glaring gaps in community services as federal funds are depleted and before any additional relief funds reach Juneau. Learn more. Photo: Ben Huff.
Treadwell Ditch Trail Renovation Project. We are blessed with great local trails offering healthy, socially distant, places to be during the pandemic. Improving local trails is a Foundation priority. Every dollar donated to this community project has been matched 3 to 1 by a trail improvement grant awarded to the Foundation from the Alaska Department of Fish & Game. Your donation to this project has helped pay the way for Trail Mix to continue their great renovation work on the historic trail making it accessible and safe from beginning to end.
Thank you to all of our local donors who helped us meet the $220,000 cash match requirement!
Learn more about the Foundation's unique partnership with Trail Mix, U.S. Forest Service, ADF&G, and the City & Borough of Juneau.
To learn about other Community Projects.
---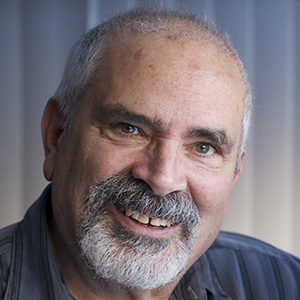 Stories of Local Philanthropy. The Foundation celebrated John Gaguine with its third Founders' Award, at a Zoom reception on September 16. The Founders' Award recognizes "a lifetime of achievement and service to Juneau and Alaska." More than 90 people — friends, family and colleagues — were online to honor John's enduring commitment to community and philanthropy, his generous giving of time, talent, expertise and money.
Over the course of the program, words of appreciation and affection for John were abundant. Foundation founding members Reed Stoops and Eric Kueffner talked about the purpose and history of the Founders' Award and provided an overview of John's philanthropy and community service, contributions recognized by many as being fundamental to Juneau's well-being. Learn more about John and the event.
20 Year Anniversary. On September 17, 2020 your Community Foundation had planned on filling Centennial Hall for a 20th Anniversary Celebration. A chance to celebrate 20 years of promoting philanthropy in our hometown — people being generous with their time, talent, expertise, and hard earned money. An opportunity to recognize our founders, donors, partners and all the wonderful people that have helped the Foundation establish an important role in the community. Yes, plans changed due to COVID-19. We look forward to celebrating with you in 2021!
Looking ahead to the next 20 years, we are excited about what can and will be accomplished through Community Endowments being built in support of Youth & Education, Arts & Culture, Parks & Trails, and Health & Social Services. Thank you for being generous! More donor stories here.
---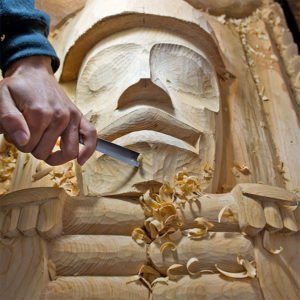 Supporting Juneau Artists. Congratulations to Crystal Cudworth, MK MacNaughton, Christina Apathy, and Ben Huff, recipients of the Foundation's 2020 Individual Artist Awards. Thank you to our generous donors for making funds available to launch this new hometown grant program for local artists. Learn more about the 2020 Awards. Arts Vibrancy Endowment – Fostering our Dynamic Arts Culture. Juneau's vibrant arts scene and rich living cultures are among our city's strengths. The Arts Vibrancy Endowment will help sustain dynamic and accessible arts opportunities for the community. Learn more.
Youth Equity Fund: Increasing Equity of Opportunity. Supporting local youth is key to building a healthy future community. The Youth Equity Fund focuses on cultivating conditions in which youth can thrive. Youth programs, camps and activities enrich lives, provide sparks for learning, stimulate positive social interaction. We coordinate across providers to improve the lives of low-income children and their families, opening doors to opportunities for disadvantaged youth to learn, grow, and succeed.  Learn more.
Senior Citizen Support Fund. This Fund to support Juneau's seniors was created by Senior Citizen Support Services, Inc. which transferred its cash assets to the Foundation. "At the rate elders are living longer, and given the fact that soon 25% of Juneau's population will be over 65, how could we NOT create this fund?" Sioux Douglas, fund advisor explained. Learn more.
Parks, Trails & Recreation Fund. Enhance our trails, revitalize neighborhood parks and recreation areas. Hilda Dam Cabin, Treadwell Ditch Trail Renovation, and more!
Education Fund. Empower people of all ages, with the skills they need to thrive and flourish.
---
---
No matter the size, a gift to the Juneau Community Foundation is a first step in advancing a cause that matters to you. Find out more about how your donation can help create a healthy, safe, and culturally rich environment in our community.