The Juneau Community Foundation promotes philanthropy and effectively responds to the needs of our community to create a healthy, safe, and culturally rich environment.
---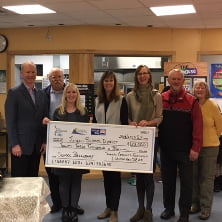 School Breakfast Program. The Foundation and United Way of S.E. Alaska recently presented a $23,000 donation to the Juneau School District for its districtwide universal elementary school breakfast program. The money helps to bridge the gap between federal dollars, which provide a free breakfast for households that meet federal poverty guidelines, and the cost of offering free breakfast to every middle and elementary school student. Food and fellowship to start the day. Learn more.
Youth Scholarships. For the second year in a row, First Bank has partnered with the Juneau Community Foundation to support youth equity in our hometown. First Bank's generous $5,000 donation, will once again be matched by the Friends of Zach Gordon Youth Center and by local donors through your Community Foundation. These funds will be used to ensure that low income kids can participate in local extracurricular activities, camps and programs that build confidence, promote school success, connect kids with each other, adults, and a world of possibilities. Learn more.
New Glory Hall. The emergency shelter, soup kitchen, and care center was established in 1982 with a mission to provide food, shelter, and compassion to those most in need. It has operated in the heart of downtown since 1994. After much thought and deliberation, the Glory Hall board has decided to pursue a move out of downtown in order to best meet the needs of their patrons. Learn more.
---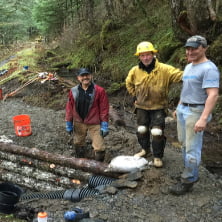 Treadwell Ditch Trail Renovation Project. The Alaska Department of Fish & Game has awarded the Juneau Community Foundation a $660K grant in support of the Treadwell Ditch Trail Renovation Project on Douglas Island. The grant will pay for 75% of the total project cost with a 25% local match required. Renovation of the trail is a top priority of the Foundation's Parks, Trails & Recreation Fund. Learn more about this partnership with Trail Mix, US Forest Service, ADF&G, and the City & Borough of Juneau.
Big thanks to our generous donors. The local cash match requirement is $220,000 and $158,000 has been raised thus far… 72% to goal. Please join your friends and neighbors in making the Treadwell Ditch Trail accessible, safe, world class, from beginning to end! To Donate.
Hilda Dam Cabin. On Sept. 28, the Juneau Community Foundation and Eaglecrest celebrated the grand opening of Juneau's newest public use cabin. The Foundation built the cabin and has donated it to Eaglecrest to own and operate for generations to come. During presentations by project partners, the "cabin story" of community will and collaboration became apparent to the crowd who gathered to celebrate the accomplishment. Learn more.
To learn about other Community Projects.
---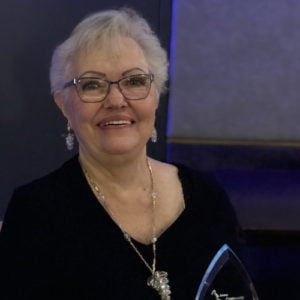 Stories of Local Philanthropy. The Juneau Community Foundation held their annual Philanthropy recognition dinner on September 19, 2019. The event honors outstanding local individuals and businesses who demonstrate commitment to community philanthropy and leadership. Laraine Derr received the Philanthropist of the Year Award and Elgee Rehfeld, LLC accepted the Philanthropic Business Award.
"Philanthropy is not just MONEY. It is generosity in all its many forms. It is time. It is talent, and it is treasury… all those T words that occur throughout life. The origin of the word, philanthropy is a Greek word 'philanthropia', meaning kindliness, humanity, benevolence and love for man-kind. So basically, you can be an everyday philanthropist no matter your financial station or stage in life. My challenge to you is to find a way to give back to the world, whether it be time, talent, or treasury. I feel like I'm preaching to the choir tonight as most of you in this room actually reflect and live the meaning of the word. So, my last letter T is to say Thank you to all of you who make Juneau such a great place to live." Laraine Derr
To further honor Laraine, funds were raised during the evening for the Foundation's Sustainability Fund. Learn more about the event.
---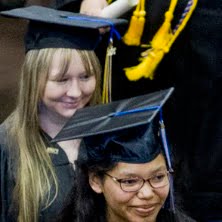 Youth Equity. "We are excited about the Foundation's commitment to Juneau's youth. Increasing equitable access to activities for youth is one step in the process of creating a more equitable community. Healthy activities provide kids with a critical foundation for a healthy life, impacting not only them but our entire community for years to come. We are grateful to be a part of this collaborative effort." Jorden Nigro, Zach Gordon Youth Center.
More than 1400 Juneau students live in poverty. Partnering with Zach Gordon Youth Center, Juneau School District, youth activity providers, and agencies working with low-income families, we aim to increase participation rates of low-income children in youth activities and camps. Learn more.
Parks, Trails & Recreation Fund. Enhance our trails, revitalize neighborhood parks and recreation areas.
Education Fund. Empower people of all ages, with the skills they need to thrive and flourish.
Arts Vibrancy Endowment. Support our vibrant arts scene and rich cultural history for generations to come.
---
---
No matter the size, a gift to the Juneau Community Foundation is a first step in advancing a cause that matters to you. Find out more about how your donation can help create a healthy, safe, and culturally rich environment in our community.