---
The Juneau Community Foundation promotes philanthropy and effectively responds to the needs of our community to create a healthy, safe, and culturally rich environment.
---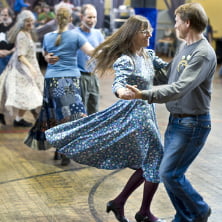 Alaska Folk Festival Legacy Fund. Introduction of this new Foundation fund coincides with the 46th Alaska Folk Festival which is online (April 5-11) this year due to the pandemic. Celebrate this remarkable cultural institution and tradition – all volunteer, all these many years – by considering this new fund as part of your charitable giving. This endowment will support the activities of this community treasure for generations to come. 
To donate.
Douglas-Dornan Foundation Fund is accepting applications for funding support from organizations that benefit and enhance the health, education and welfare of individuals in SE Alaska. This is the 28th year of grants from the Douglas-Dornan Foundation and during that time, $507,000 has been distributed to more than 100 different organizations, programs, and individuals. Learn more.
Margaret Frans Brady Fund Scholarships. The Margaret Frans Brady Fund will make available up to $10,000 in scholarship funding in 2021 for students who are pursuing artistic excellence. Deadline is April 25. Applications here.
Simon & Anna Kirk Memorial Scholarship. Up to $1,750 for one female and one male student from JDHS and one student (male or female) from Yaakoosge Daakahidi High School, for undergraduate study, vocational school, or supervised apprenticeship training. Deadline is April 30. Applications here.
Alma Harris Scholarship. $10,000 for one graduating senior from a Juneau High School to pursue a higher education at a University, College, or Vocational School. Deadline is April 30. Applications here.
Bob & Darlene (Phelps) Stutte Family Scholarship. Two $2,500 awards for graduating seniors from Yaakoosge Daakahidi High School or the CHOICE Program at JDHS or graduates from 2019 and 2020 who are not currently enrolled in a University, College or Vocational School. Deadline is April 30. Applications here.
---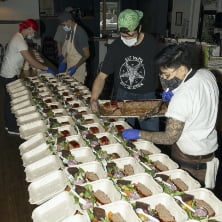 New COVID-19 Grants. Because of donors like you, Foundation grantmaking continues from our COVID-19 Community Assistance Fund to help during the ongoing pandemic. Thus far, the Foundation has provided more than $200,000 in local COVID response grants. The two new grants include a $13,900 grant to fund an AmeriCorps position through United Way of S.E. Alaska. This literacy support assistant will help students at Sayeik Gastineau Elementary School 'catch up' on school work missed because of COVID. The position is for the 2021-2022 academic year; and a $10,000 grant to the Organized Village of Kake to help address issues of food insecurity and youth mental health, both of which have been negatively impacted by the pandemic. Thank you, generous donors, for making these hometown grants possible. Learn more.
Treadwell Ditch Trail Renovation. Improving local trails is a Foundation priority. Every dollar donated to this community project was matched 3 to 1 by a grant awarded to the Foundation from the Alaska Department of Fish & Game. Thank you to all donors who helped us meet the $220,000 cash match requirement! Learn more about the Foundation's partnership with Trail Mix, U.S. Forest Service, ADF&G, and CBJ.
Hilda Dam Cabin – A Gift to the Community. In partnership with Eaglecrest, the Foundation raised the funds and oversaw construction of the Hilda Dam Cabin. "It has been incredibly successful, a really positive thing for Eaglecrest and the community. We wanted to build a first cabin, prove the concept, and hopefully build more. It has exceeded our expectations and will be a community asset cherished for generations to come." – Dave Scanlan, Eaglecrest GM. Learn more.
To learn about other Community Projects.
---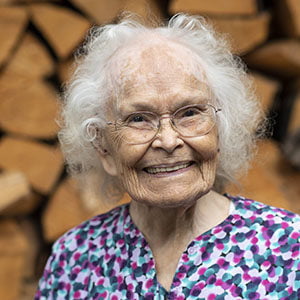 Stories of LocalPhilanthropy Kaayistaan – Marie Olson. "How many people dream of what the world is going to be like?" Marie mused. During her 96 years, Marie has spent a lifetime not only dreaming about what the world will be like but helping to shape that world. Marie carries her grandmother's Tlingit name Kaayistaan and she started the Kaayistaan Alaska Native Studies Scholarship Fund at UAS, which supports annual scholarships for students enrolled in Alaska Native language, arts, or cultural courses through the school's Alaska Native Studies Program.
She beams with pride when reflecting on her efforts to promote higher education and Tlingit culture. "It makes me feel good. We are not done. One of these days, I will be gone. I am thinking all the time…there is so much to do." Learn more about Kaayistaan and other community champions in the 2020 Annual Report.
Founders' Award. The Foundation celebrated John Gaguine with its 3rd Founders' Award, on September 16. The award recognizes "a lifetime of achievement and service to Juneau and Alaska." More than 90 people were online to honor John's enduring commitment to community and philanthropy, his generous giving of time, talent, expertise and money, contributions recognized by many as being fundamental to Juneau's well-being. Learn more.
Senior Citizen Support Fund. This Fund to support Juneau's seniors was created by Senior Citizen Support Services, Inc. which transferred its cash assets to the Foundation. "At the rate elders are living longer, and given the fact that soon 25% of Juneau's population will be over 65, how could we NOT create this fund?" Sioux Douglas, fund advisor explained. Learn more.
More Donor Stories here.
---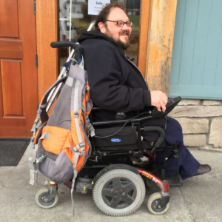 The Teal Street Center. For our neighbors who find themselves in need of social services in Juneau, a brighter future will be found inside the walls of the Teal Street Center. The Teal Street Campus will feature wrap-around services and programs by housing multiple organizations that serve people experiencing disabilities, at-risk youth, elders and low-income community members. The Teal Street Center – Nonprofits Collaborating for a Healthy Community. Learn more.
Youth Equity Fund. Supporting local youth is key to building a healthy future community. This fund focuses on cultivating conditions in which youth can thrive. Youth programs, camps and activities enrich lives, provide sparks for learning, stimulate positive social interaction. We coordinate across providers to improve the lives of low-income children and their families, opening doors to opportunities for kids to learn, grow, and succeed. More than 200 low-income students have received scholarship support to participate in local youth activities and camps during the first two years of this effort; 91% were children who were eligible for free and reduced lunch. Learn more.
Individual Artist Awards. The Foundation's Individual Artist Awards grant program is dedicated to the development of local artists in their pursuit of the creation of original works, by fostering the creative process that produces their vision. Crystal Cudworth, MK MacNaughton, Christina Apathy, and Ben Huff, were recipients of the Foundation's 2020 awards. The first round of 2021 awardees will be announced May 1. Thank you to our generous donors for making funds available to launch this new hometown grant program for local artists. Learn more about the Arts Vibrancy Endowment and to donate.
---
---
No matter the size, a gift to the Juneau Community Foundation is a first step in advancing a cause that matters to you. Find out more about how your donation can help create a healthy, safe, and culturally rich environment in our community.