Bob and Darlene

Stutte

Fund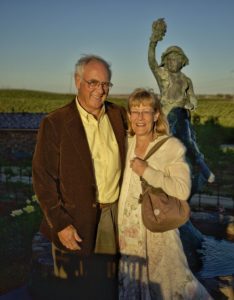 Bob and Darlene (Phelps/deceased 2014) Stutte grew up in Juneau during the 1950s and into the 1960s. Bob graduated (barely) from JDHS in 1963 and Darlene in 1965.  Bob's family, father and grandfather, were in construction and built numerous houses and buildings in the area; including building and owning the first Foodland in the 1950s.  Darlene's father was a merchandise broker representing everything from food lines in grocery stores to restaurant and bar supplies, including numerous liquor lines.  Bob has one sister, Kaysa Korpela who remains in Juneau with her children and grandchildren.  Darlene had two sisters, Billie Joe (Secrist/ Triplette, deceased) and Carmen Engen.  Some of Carmen's children remain in Juneau.
Bob and Darlene went south to Portland, Oregon to attend college (Portland Community College and Portland State University) and then stayed, residing in Portland. Bob had a career in commercial real estate retiring in 2014 after 44 years and as President of Norris & Stevens, Inc. College was difficult, financially, and due to Bob's lack of study habits from achieving a 1.8 GPA out of High School (A+ in social activities). Darlene was a good student and the "rock".  Bob received a $250 scholarship in his senior year of college which enabled him to get a degree. Receiving this scholarship at that time has helped motivate establishing this scholarship fund: Giving Back!
Two $2,500 endowed scholarships, to be given annually, have been established to help give a student in need a "kickstart". Bob, as an example, had no vision of college after High School.  The idea of pursuing more education perhaps came from the experience of digging ditches in Anchorage, after the earthquake (1964), in December at minus 30 degrees… and of course at the urging of Darlene.
2021 Stutte Scholarship Requirements
2021 Stutte Scholarship Application
To Donate
Donate by credit card via the link below or make your checks payable to: Juneau Community Foundation, 350 North Franklin Street, Suite 4, Juneau, AK 99801. Remember to include your name and address so that you can receive your tax deduction letter.
Please consider adding 3% to your donation to cover the online transaction.