Friends of the Jensen-Olson Arboretum Fund
The Jensen-Olson Arboretum is a treasured benefit of living in Southeast Alaska. Caroline Jensen donated the historical arboretum property at 23-mile Glacier Highway to the City and Borough of Juneau. It opened to the public in 2007 and has evolved into a garden destination and a living laboratory featuring nearly 1,000 native and cultivated species.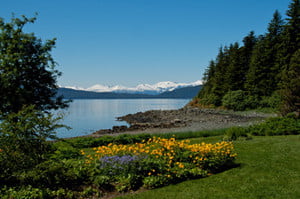 In 2012, the Arboretum was awarded National Accreditation by the Plant Collections Network for its collection of Primula.  Approximately 150 species and cultivars of Primula are under cultivation and available for visitor viewing and research; this is the largest documented collection of these plants in North America.
The Arboretum embodies Caroline's vision of a garden that inspires learning in horticulture, natural sciences, and landscaping. It maintains the historical and cultural context of the site while preserving in perpetuity its beauty for pure aesthetic enjoyment.
Providing visitor services through programming, outreach, and infrastructure is essential to the mission and vision. The Juneau Community Foundation, the Southeast Alaska Land Trust, and the Friends of Jensen-Olson Arboretum have joined forces to achieve this goal. 
This fund was created to help gather the resources necessary to provide infrastructure upgrades including installation of a permanent restroom (the Lovely Loo), interior education space, interpretive information, and other projects needed to further support programming and visitor services.
If you have thoughts or questions about these goals, please contact the Friends of Jensen-Olson Arboretum at [email protected] or www.friendsjoarboretum.org or 23035 Glacier Highway, Juneau, AK 99801.
Learn more about the Lovely Loo project, click here.
Watch the Jensen-Olson Arboretum movie to learn more.
To Donate
Donate by credit card via the link below or make your checks payable to: Juneau Community Foundation, 350 North Franklin Street, Suite 4, Juneau, AK 99801. Remember to include your name and address so that you can receive your tax deduction letter.
Please consider adding 3% to your donation to cover the online transaction.