Margaret Frans Brady Fund
Margaret Frans Brady 2021 Scholarships Awarded – Press Release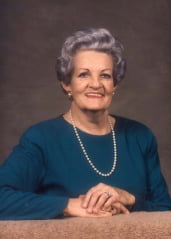 Margaret Frans Brady, 1926-2010
Margaret Ann Frans Brady, was born on July 31, 1926 in Hickory, North Carolina. She was the second child of Lee P. and Wilhelmina Frans. They had moved to Hickory from Winston-Salem with their oldest daughter Mary Elizabeth in 1925, when Mr. Frans purchased an Orange Crush bottling plant. In 1936, he added a Pepsi-Cola franchise, working the area with just three trucks. A third daughter, Kathryn Jean was born in 1929. During the Great Depression, the family learned how to live within their means, but frequently fed hobos off the trains. Fortunately the soda pop business survived those lean times and grew into one of Hickory's most successful family-owned enterprises, which now is spread across 18 western NC counties.
Margaret was a smart and versatile student in school. She played basketball and participated in various clubs, all while getting straight A's. She was valedictorian of her high school class of 1943. Back then, children in NC had 11 years of primary and secondary schooling, and Margaret's graduation address heralded the need for a 12th year of preparation, which occurred within a few years. From there, she went on to Duke University, earning a degree in English in 1947. She was a member of Pi Beta Phi and the Duke Players, and worked for Archive, the student magazine.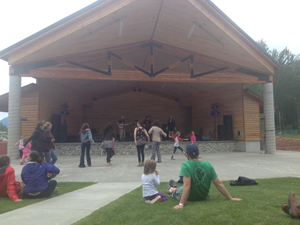 The initial Margaret Frans Brady project provided seed money for the outdoor arts facility design, working with Skagway Arts Council and the Municipality of Skagway.
After graduation, she came home to Hickory, waiting for her high school sweetheart, William P. "Bird" Brady, to return from U.S. Navy service in the Pacific. The Bradys were married on December 29, 1948. Mr. Brady finished his undergraduate degree at Lenoir-Rhyne College in 1950 and the couple moved to Chapel Hill, where he attended graduate school at UNC. In 1952, after receiving his masters, Mr. Brady took a job as a high school civics and PE teacher/coach. He then joined the family business and the couple worked out of a satellite bottling plant in Spruce Pine, where they lived until Margaret became pregnant with her first child, William Jeffery, in 1956. He was born in Hickory, and two more arrived, Colin Frans in 1958 and Jean Elizabeth in 1962.
The Bradys were active in their community. An education advocate all her life, Margaret saw a need for a college preparatory school in the late 1960s and became a founding board member of North State Academy. She also tutored several area kids with dyslexia to make them better readers. After her husband was taken by cancer at just the age of 46, she continued to focus on raising her children and seeing them graduate and go on to college. She encouraged them to be independent and supported their pursuits in drama productions, the creative arts, design, and even the dream of her oldest son Jeff, who started a newspaper in Skagway, Alaska in 1978.
Margaret was a frequent visitor to Skagway during her life to see her son and grandchildren, until her health declined. After her death in January 2010, the Brady family decided to donate a portion of the proceeds from her estate to support arts and education needs in their community. The Margaret Frans Brady Fund was established in January 2012. Jeff Brady will advise JCF on requests for funds, with assistance from his wife Dorothy and other family members.
Click here for Margaret Frans Brady Fund Grants and/or Scholarships information and applications.
2021 MFB Scholarship Application
Press Releases
Margaret Frans Brady 2021 Scholarships Awarded – May 2021
Margaret Frans Brady 2018 Scholarships Awarded – May 2018
Margaret Frans Brady 2017 Scholarships Awarded – May 2017
Margaret Frans Brady 2015 Scholarships Awarded – May 2015
Margaret Frans Brady 2015 Application Available March 16, 2015
Margaret Frans Brady 2014 Scholarships Awarded May 20, 2014
Margaret Frans Brady Fund Established February 2012
To Donate
Donate by credit card via the link below or make your checks payable to:
Juneau Community Foundation, 350 North Franklin Street, Suite 4, Juneau, AK 99801.
Remember to include your name and address so that you can receive your tax deduction letter.
Please consider adding 3% to your donation to cover the online transaction.